10/12/10
His biggest coup, however, was casting Kristen Stewart, co-star of the blockbuster Twilight films, as the underage hooker that the plot turns on. "I loved her in Into the Wild. I thought,
'Oh my God, that's exactly the right quality I'm looking for in Mallory.' It's a sort of feral quality."
Scott spent a good year with the screenwriter, streamlining plot points and making them subtle. The death of the Rileys' daughter is established in a deft and unexpected manner. "She used to exist in flashbacks, but one of the first things I did with Ken was take all the flashbacks out. I kept going back to the idea of restraint.
"While we were in New Orleans, it was very tempting to photograph the cityscape for all of its beauty, but I really didn't think that was relevant to the characters.
"
Some people have said, "It's a shame you don't get to see Kristen actually dancing on a pole,' but that was again a conscious decision. I didn't shoot it. I was being asked to shoot it, but I wouldn't shoot it because I didn't feel that it was relevant to what Doug was going through. And I think, if I had shown her doing that, it was possible the audience would connect that to Doug and to something he was doing as a character. I didn't want that to happen. I didn't want that to be in question."
Read the rest of the interview
HERE
via
kstewartnews
Posted by

Lena
at 3:35:00 PM
9 comments

10/11/10
It's so nice to see them laughing. Aww. And oh!? Kristen's hand on Rob's thigh? YES!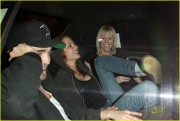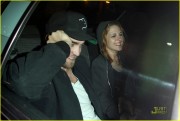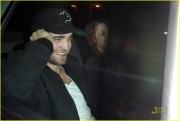 Robert Pattinson and Kristen Stewart share a hearty laugh as they pile in the back of a taxi in Beverly Hills on Sunday night (October 10).
The duo, who were out with a friend, grabbed a bite to eat at Marsuhisa Japanese restaurant.
Posted by

Lena
at 4:01:00 AM
0 comments

10/10/10
Hi guys!
This is my other site :
http://lostflair.blogspot.com/
I just want you to see and comment this site. I'm a photographer,
so I would love to know what you think about my photos.
Thank you so much!
xoxo
Lena
Kristen still wearing her outfit from 'The Tonight Show' obviously met up with boyfriend, Rob and BFF Tom Sturridge to attend a party at the Thompson Hotel in LA. They were papped leaving the party. Kristen's friend/personal assistant/all-around guy, John ASB was with them.
Date Number 4 and counting. Never mind if they were with friends. They have that exclusive RobSten bubble wherever they go.
Adding Untagged HQs
Thanks to
setje of pattinsonlife
Posted by

Lena
at 3:14:00 AM
0 comments

Posted by

Lena
at 3:11:00 AM
0 comments