8/30/10
"Kristen and I have a special bond together, she is the sweetest, smartest and strongest girl I know.If we have a relationship I would rather not say, because my words get twisted around too much and can be 'old news' by the time this interview is printed."
Robert Pattinson on his relationship with Kristen Stewart
"I would never cheapen my relationships by talking about them. People say, 'Just say who you're dating. Then people will stop being so ravenous about it.' It's like, No they won't! They'll ask for specifics."
Kristen Stewart on her relationship with Robert Pattinson
Posted by

Lena
at 5:34:00 AM
1 comments

8/29/10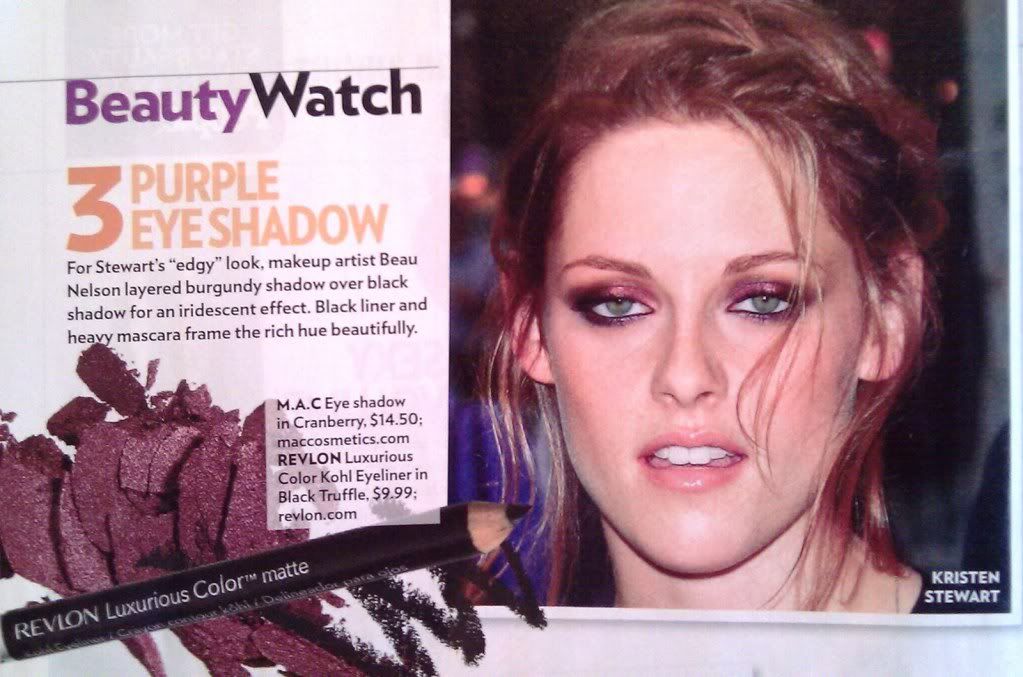 Posted by

Lena
at 7:19:00 PM
0 comments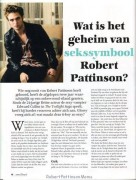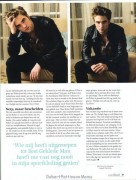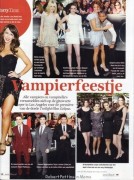 What's the secret of sex symbol Robert Pattinson?
Those who never heard of Robert Pattinson must have been living on a deserted island the past two years. Ever since the 24 year old British actor played Edward Cullen in the Twilight Saga, there have been lots of women swooning over him. Glossy wanted to know: what makes this it-boy so sexy?
Tossled hair, sultry eyes and a hot body are THE ingredients for a teen-idol and Robert Pattinson has it all. But he almost didn't become the star he is today. For the audition of Twilight, the first of the 4 Twilight Saga movies (based on the popular book by Stephenie Meyer) he made a video which never reached the casting director. Robert thought he was so bad at acting that he didn't dare send it in. The fact that he eventually did get invited to audition was due to his part of Cedric Diggory in Harry Potter and the Goblet of Fire. Cedric doesn't make it to the end of the movie, but Robert's carreer started here.
The Brit wasn't convinced though. Shortly after the audition he called his parents: "I told them 'This is it, I'm quitting!' and the only thing they said was 'Okay'. That wasn't the answer I was expecting." Robert needed all the support he could get. The hard core Twilight-fans, called Twi-hards, weren't that enthausiastic about Robert playing their favourite vampire.
Stephenie Meyer, the 'spiritual mother' of Edward Cullen, was convinced Mr. Pattinson could do it and made sure he got the part in the Twilight Saga.
To prepare himself for the part, and to prove the Twi-hards wrong, Robert retreated for a while in the Ameri can city Portland. He was so focused, he closed himself off. 'I didn't talk much during filming and never went out with the crew, but halfway through filming I thought: okay, people might start thin ing I'm really crazy'. Crazy or not, when Twilight hit the the aters in november 2008, no twi-hard doubted if Robert was the perfect Edward Cullen. A star was born! Robert became in no time the most desirable bachelor on the planet — fans call him lovingly R-Patzz.
But the fame didn't go to his head. Rob was immediatly very concentrated for the second movie New Moon. David Slade, director of New Moon [note: this was Chris Weitz, Slade was director of Eclipse]: "Robert is very serious and will do anything to make his character believable/real. Not just for himself, but also for the audience.'
Who thinks Robert can only play the part of a sexy vampire is wrong. Between shooting the two Twilight Saga movies he did an amazing job shooting the movie Remember Me. 'I love playing parts that are inspiring, I don't want to just play parts that are good for my career.' he says. Robert doesn't just get inspired by acting: his other passion, music, inspires him too.
He started playing the piano when he was very young and when he was 15 he started playing the guitar. Unfortunatly he doesn't get to make music much anymore because of his tight workschedule. "I do miss mak ing music very much". Fortunately he could live out his passion for music on the sound track of Twilight with the song Never Think.
Ofcourse it's not just his acting abilities that make Robert so succesfull, his sexy looks and bedroom eyes do help. His parents saw very early that Robert had a special 'look' and enrolled him in an model agency. Even though he got regularly booked, he didn't believe in it that much: 'I was a bad model. I was extremely tall, but I still looked like I was 6 years old.'
Now he really has to believe it: R-Pattz is a sex symbol. Last year Robert was voted sexiest man in the world by Glamour magazine and left Brad Pitt and Johnny Depp behind him. He also got a spot on the list of Sexiest Man Alive by People Magazine and got voted best dressed man. But Robert stays modest underneath all the attention. His insecurity shows when he says he doesn't understand all the commotion about his appearance: 'One of my legs is longer than the other one, so I look like a complete idiot. And the person who proclaimed me Best Dressed Man never saw me in my sport outfit. The other day I was going to the gym and I realised that I wore my old sport outfit with my old worn down sneakers and on top of that I wore my dress socks, the ones you only wear with a suit.' He still can't believe that there is a Barbie doll that looks like him: 'it doesn't look like me, but like Zac Efron.'
Fans can't wait for the last two movies of the Twilight Saga and Robert can't wait either. 'It always feels good when shooting starts again and I can embody Edward again. Especially the development Edward goes through is a challenge. In the first two movies he was very distant, but in Eclipse he shows more emotions. Eclipse felt like a completely different movie, as if I was playing a completely different character.'
Robert changed from the insecure guy who was too afraid to send in his audition video and called his parents to tell them his acting career was over to the golden boy of Hollywood. We will surely see a lot of him on the big screen. Robert: 'This job is like going on a holiday: each day I'm excited to go to work.'
source
Posted by

Lena
at 7:16:00 PM
0 comments

Respect them for God's sake!
source
Posted by

Lena
at 7:14:00 PM
0 comments

Posted by

Lena
at 7:12:00 PM
0 comments

Posted by

Lena
at 5:34:00 AM
0 comments

8/28/10
This is ridiculous. I couldn't use the bathroom with him staring. Really...
Posted by

Lena
at 4:57:00 PM
0 comments

Twilight couple Robert Pattinson and Kristen Stewart surely knows how to keep paparazzi at bay and keep their relationship under wraps. The superstar couple is keeping it real tight for everyone as they are unwilling to make anything public about their personal stuffs. Pattinson and Stewart were recently spotted leaving the Ojai Valley Inn and Spa. No one knew that the couple was staying at the facility and the employee came to know that Pattinson and Stewart were actually staying there when the couple left the facility after spending some quality time there.
Robert and Kristen also took the help of LAPD and other authorities recently to prevent scoop-seeking Paparazzi's from hassling them and intruding in their private life. But it seems that the Twilight Couples will find it tough to keep things secret for some more time as the media personnel's are hell bent on knowing their actual relationship status.
Talking to the reporters, one of the staff of Ojai Valley Inn and Spa stated: "They were here, but never once were they seen using the spa, the pool or any of the other amenities we offer. We just needed to change the sheets and make the bed, because the bed was the only thing in the room that was used."
Though some senior staff of the facility knew that the couple were staying there they did not reveal anything to the media as Pattinson and Stewart demanded privacy and it was the responsibility of the management of the facility to keep the stay of the couple a secret.
source